To ensure loading and unloading is performed correctly, especially in automated systems, freight trains must be accurately positioned. With a maximum measuring length of 1,700 m, the KH53 linear encoder is particularly suitable for use on railway tracks. Non-contact technology ensures that the system is accurate and wear-free regardless of train vibrations, contamination and precipitation.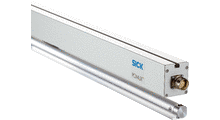 Non-contact length measurement – maintenance-free, rugged, long service life.

High reproducibility (0.3 mm / 1 mm), high system resolution (0.1 mm).

SSI and PROFIBUS interfaces.

Determination of absolute position.

Measuring lengths of up to 1,700 m possible.

Can be used in harshest ambient conditions.

High traversing speeds of up to 6.6 m/s.

Distance tolerance between read head and measuring element: up to 55 mm ± 20 mm possible.