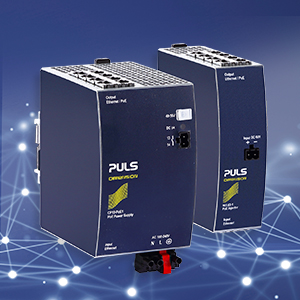 Industrial PoE injectors
Efficient 4-channel and 8-channel Power-over-Ethernet injectors for DIN rail mount. Available with an integrated 240W power supply or as stand-alone PoE injectors.
Both devices feature a stable power of up to 30W per channel. This enables you to supply up to 8 PoE/PoE+ devices with only one injector. PULS PoE injectors can handle varying grid quality, high temperatures and vibrations. These units are therefore perfect for industrial applications.
PoE injector
Compare

Article No.

DC output

Range

Power

Input

Dimensions




WxHxD (mm)

Special feature

48V
0.6A
48-56Vdc
240W
DC 48-56V
39
128
117
8 ports
PoE power supply
Compare
Article No.
DC output
Range
Power
Input
Dimensions


WxHxD (mm)

Special feature

48V
48-56Vdc
240W
AC 100-240V | DC 110-150V
77
128
117
8 ports, integrated PULS power supply