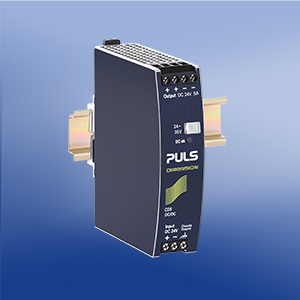 DC/DC converters
Efficient and reliable PULS DC/DC converters provide regulated DC voltages of 12V, 24V or 48V.
An efficient DC/DC converter can do more than just adjust voltages. It can contribute to system reliability and increase endurance in the event of voltage fluctuations.
The compact design allows installation in standard decentralized on-machine cabinets and saves plenty of space on the DIN-rail.
DIN rail power supplies for 1-phase system
Compare
Article No.
DC output
Range
Power
Input
Dimensions


WxHxD (mm)

Special feature

12V

10A

12-15Vdc

120W

AC 100-240V | DC 110-150V

32

124

102

24V

5A

24-28Vdc

120W

AC 100-240V | DC 110-300V

32

124

102

enhanced DC input

12V

16A

12-15Vdc

192W

AC 100-240V | DC 110-150V

39

124

117

12V

16A

12-15Vdc

192W

AC 100-240V | DC 110-300V

39

124

117

enhanced DC input

24V

3.3A

24-28Vdc

80W

AC 100-240V | DC 110-300V

32

124

102

5V

3A

5-5.5Vdc

15W

AC 100-240V | DC 110-300V

23

75

91

12V

1.3A

12-15Vdc

15W

AC 100-240V | DC 110-300V

23

75

91

24V

0.6A

24-28Vdc

15W

AC 100-240V | DC 110-300V

23

75

91

24V

1.3A

24-28Vdc

30W

AC 100-240V | DC 110-300V

45

75

91

5V

5A

5-5.5Vdc

25W

AC 100-240V | DC 110-300V

45

75

91

10V

3A

10-12Vdc

30W

AC 100-240V | DC 110-300V

45

75

91

very low output noise

12V

2.5A

12-15Vdc

36W

AC 100-240V | DC 110-300V

45

75

91

dual-output voltage

24V

1.3A

24-28Vdc

30W

AC 100-240V | DC 110-300V

23

75

91

24V

2.1A

24-28Vdc

50W

AC 100-240V | DC 110-300V

45

75

91

24V

2.1A

24-28Vdc

50W

AC 100-240V | DC 110-300V

45

75

91

optimised for parallel use

12V

4.2A

12-15Vdc

50W

AC 100-240V | DC 110-300V

45

75

91

48V

1.1A

48-56Vdc

50W

AC 100-240V | DC 110-300V

45

75

91

24V

2.1A

24-28Vdc

50W

AC 100-240V | DC 110-300V

45

75

91

conformal coating

24V

2.1A

24-28Vdc

50W

AC 100-240V | DC 110-300V

45

75

98

with plug connector

12V

4.5A

12-15Vdc

54W

AC 100-240V | DC 110-300V

45

75

91

12V

4.5A

12-15Vdc

54W

AC 100-240V | DC 110-300V

45

75

91

-40°C operation

24V

2.5A

24-28Vdc

60W

AC 100-240V | DC 110-300V

45

75

91

24V

2.5A

24-28Vdc

60W

AC 100-240V | DC 110-300V

45

75

91

-40°C operation

24V

3A

24-28Vdc

72W

AC 100-120V AC 220-240V | DC 290V

45

75

91

NEC Class 2

24V

4A

24-28Vdc

95W

AC 100-120V AC 220-240V | DC 290V

73

75

103

NEC Class 2

24V

4.2A

24-28Vdc

100W

AC 100-120V AC 220-240V | DC 290V

73

75

103

12V

7.5A

12-15Vdc

90W

AC 100-120V AC 220-240V | DC 290V

73

75

103

48V

2.1A

48-56Vdc

100W

AC 100-120V AC 220-240V | DC 290V

73

75

103

24V

4.2A

24-28Vdc

100W

AC 100-120V AC 220-240V | DC 290V

73

75

103

conformal coating

24V

3.4A

24-28Vdc

80W

AC 100-240V | DC 110-300V

32

124

102

24V

5A

24-28Vdc

120W

AC 100-240V | DC 110-300V

40

124

117

24V

5A

24-28Vdc

120W

AC 100-240V | DC 100-300V

40

124

117

conformal coating, ATEX

12V

15A

12-15Vdc

180W

AC 100-240V | DC 110-150V

60

124

117

24V

10A

24-28Vdc

240W

AC 100-240V | DC 110-150V

60

124

117

24V

10A

24-28Vdc

240W

AC 100-240V | DC 110-150V

60

124

117

conformal coating, ATEX

24V

10A

24-28Vdc

240W

AC 100-240V | DC 110-150V

60

124

117

conformal coating